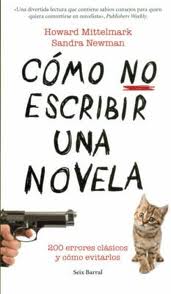 En Cómo no escribir una novela, Howard Mittelmark y Sandra Newman aplican sus años de experiencia como editores y escritores para identifi car los 200 errores más comunes que cometen los escritores y enseñarnos cómo evitarlos. Muchos libros ofrecen consejos sobre cómo escribir bien. Éste no es uno de ellos. A través de hilarantes ejemplos muestra cómo conseguir que tu manuscrito jamás llegue a ser publicado: cómo los personajes son a veces versiones aburridas del propio autor, cómo un argumento puede resultar de lo más tedioso, cómo el estilo puede plagarse de tópicos… Delirantemente divertido y extremadamente útil, Como no escribir una novela te ayudará a conseguir, entre carcajadas, que tu manuscrito pase de la pila de las editoriales a las librerías.
«Increíblemente divertido en el tono pero implacable en sus enseñanzas sobre cómo dominar el argumento, los personajes, el estilo y la atmósfera.»Times Literary Supplement
«La enseñanza de escritura creativa ha entrado en una nueva era (…) ¡Qué joya de libro!» The Sunday Times
«Hilarante, perversamente crítica y profundamente útil.» The Observer
Leer un extracto en español aquí­.
Ver el video para el libro:
Gracias a Grupo Planeta Columbia por los subtitulos en español.